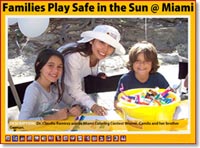 Event Slide Show

Enhanced Flash
(Recommended)
-or-
Standard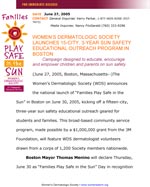 Printable
Press Release
(PDF)
VOLUNTEER WOMEN DERMATOLOGISTS TEACH RECORD CROWDS ABOUT SUN SAFETY IN MIAMI

Several thousands flock to Women's Dermatologic Society's "Families Play Safe in the Sun" exhibition at Coconut Grove Arts Festival.
DERMATOLOGY TEAM IN ACTION! Heading the sun safety educational outreach of Families Play Safe in the Sun in Miami are WDS members, pictured from left, front row: Elizabeth Connelly MD, Debbie Zell MD, Tania Garcia RN, Claudia Ramirez MD, Megan Bogart MD, Sujatha Tadicherla MD. Back Row: Laura Northrop, Judith Crowell MD, Oliver Perez MD, Elizabeth McBurney MD, WDS President-elect, and Kerry Parker, Executive Director, WDS.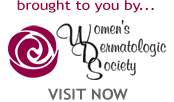 (March 9, 2006—Miami, FL)— Guided by the mission to promote sun safety and good skin health as a way of life for families, the Women's Dermatologic Society (WDS) reached new heights in community service at the recent Coconut Grove Arts Festival with its educational campaign, "Families Play Safe in the Sun." This very successful family-oriented outreach at the popular Coconut Grove Arts Festival marked the fourth leg of a 15-city, 3-year campaign made possible by a $1,000,000 grant from the 3M Foundation. The WDS volunteer effort aims to "educate, encourage and empower" people of all ages about sun safety, in view of the fact that excessive cumulative sun exposure is the primary cause of skin cancer, now the fastest-growing form of cancer in America and the leading type of cancer for women, ages 25-29.

Housed in a dynamic, interactive exhibition booth, a dedicated team of 32 WDS volunteers from South Florida and other regions contributed a combined 130 volunteer hours during two days in Coconut Grove, leading to the following record-breaking results:
464 individuals had assessments of sun damages utilizing the Dermascan machine.
11,600 free samples of sunscreen were distributed.
83 area schools and organizations signed up for the WDS "Adopt-a-School" program featuring the Environmental Protection Agency's Sun-Wise Kit for educators, paired with a local WDS dermatologist who may volunteer at schools and after-school programs.
97 school-aged children entered the "Families Play Safe in the Sun" national coloring contest by drawing original images of sun-safe families enjoying the outdoors.
85 schoolchildren and parents took the Sun Safety Quiz as a fun way to raise their "Sun Safety IQ."
Miami Mayor Manny Diaz declared Saturday, February 18 as "Families Play Safe in the Sun" Day in recognition of the national group's efforts to mobilize its Greater Miami members to promote skin cancer prevention and proper sun protection in this sun-drenched community.

"Families Play Safe in the Sun" is lead nationally by Suzanne M. Connolly, MD, Associate Professor of Dermatology, Mayo Clinic, Scottsdale. WDS member Elizabeth Alvarez Connelly, MD, Associate Clinical Professor of Dermatology and Pediatric Dermatology at the University of Miami hosted the Coconut Grove event.

WDS President-elect, Elizabeth McBurney, MD of Slidell, Louisiana joined in the busy outreach service along with several WDS dermatologist member volunteers from the Greater Miami area including: Asfa Akhtar, DO; Meggan Banta, MD; Chantal Barland, MD; Brian Berman, MD, PhD; Navid Bouzari, MD; Anne Burdick, MD, MPH; Judith Crowell, MD; Monica Halem, MD; Alysa Herman, MD; Sharon Jacob, MD; Joely Kaufman, MD; Melissa Lazarus, MD; Lucy Martin, MD; Oliver Perez, MD; Claudia Ramirez, MD; Yvonne Romagosa, MD; Rick Romagosa, MD (Stuart, FLA); Ritu Saini, MD; Sujatha Tadicheria, MD; Yvette Tivoli, MD; Magaly Villasradez-Ortiz, MD; and Larissa Zaulyanov, MD, and Debbie Zell, MD, who helped Dr. Connelly organize the local event.

Volunteer support was also provided by WDS Service committee members Heidi Anderson, MD (Cincinnati, OH) and Megan Bogart, MD (Charlottesville, VA). University of Miami medical students Chris Ballard, Jeremy Green, Tace Steele, Yvette Tivoli and Tamar Zapolanski donated their time to assist the dermatologists along with Tania Garcia, RN, of Miami.

In addition to generous funding from the 3M Foundation, product donations were provided by Coolibar; Del-Ray Dermatologicals; LaRoche-Posay; Ortho Neutrogena; Phoenix Brands; Procter & Gamble; Schering-Plough; Skyrad; Starberry, Ltd and Unilever. DermaScans were furnished by Schering-Plough.

For further information about Women's Dermatologic Society, visit:
www.womensderm.org
www.playsafeinthesun.org

Contact Kerry Parker, Executive Director, at 1-877-WDS-ROSE


The Women's Dermatologic Society supports the careers and professional development of women dermatologists. The mission of the Women's Dermatologic Society is to help women in dermatology achieve their greatest personal and professional potential by striving to: foster, promote, and support women's issues in dermatology; identify, train, and recognize women leaders in dermatology; and provide a forum for developing relationships.