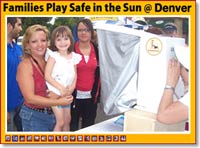 Event Slide Show

Enhanced Flash
(Recommended)
-or-
Standard

THANKS!
Denver Volunteers

Kathleen Sawada, MD (Chair)
Adrienne Stewart, MD (Chair)
Elizabeth McBurney, MD
Sylvia Brice, MD
Anwell Chang, MD
Judy Chiang, MD
Whitney High, MD
Molly Hinshaw, MD
Karen Johnson, MD
Lisa Scatena, MD
Sarolta Szabo, MD
Denise Beaudoin (Glaxo Smith Klein)
Stacey Black (Abbott Immunology)
Megan Gilbert (Connetics)
Crystal Schreck (Doak Dermatologics)
Carol Sloan (Formerly of Dermik)
Vivienne Beebe
Sandy Bowen
Hailee Boyle
Natalya A. Davies
Ciara Duran
Tracy Duran, MA
Miriam Gordon
Laura Hagert, MA
Cheniele Haynes
Amy Henderson
Skylar Kersteins
Sydney Kersteins
Bethany Krumm
Maureen Krumm, PT
Marilyn Major
Lillian Ryer
Mariko Ryer
Seji Ryer
Barbara Stewart
Christina Virgin
Christina Whitfield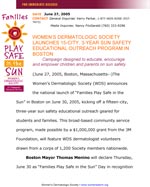 Printable
Press Release
(PDF)
FOR IMMEDIATE RELEASE
July 13, 2006

CONTACT
General Inquiries:
Kerry Parker
1-877-WDS-ROSE | (1-877-937-7673)

Media Inquiries:
Nancy FitzGerald
(760) 333-9296
SUN SAFETY CAMPAIGN SOARS TO NEW HEIGHTS IN DENVER AS RECORD-BREAKING CROWDS OF FAMILIES LEARN HOW TO REDUCE SKIN CANCER RISKS ASSOCIATED WITH HIGHER ALTITUDE

Several thousands of Mile-High City families raise their Sun Safety IQ thanks to the Women's Dermatologic Society's "Families Play Safe in the Sun" outreach at Cherry Creek Arts Festival.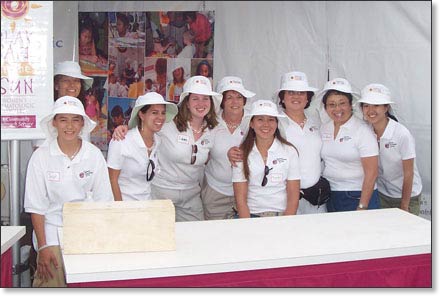 DERMATOLOGY TEAM IN ACTION! Heading the sun safety educational outreach of Families Play Safe in the Sun in Denver. The Monday Volunteer Team: From Left: Seji Ryer, Maureen Krumm, Christina Virgin, Laura Northrop, Carol Sloan, Mariko Ryer, Kathleen Sawada, Lillian Ryer, and Carmen Yee.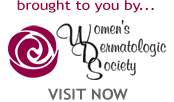 (July 13, 2006—Denver, CO)— In a community where the higher altitude means up to 25% increased levels of harmful UV exposure compared to sea level areas, a team of Denver dermatologist volunteers from the Women's Dermatologic Society (WDS) reached new heights in community service with its educational campaign, "Families Play Safe in the Sun." This three day, family-oriented outreach at the Cherry Creek Arts Festival, which reported 385,000 attendees, served as the sixth leg of a 15-city, 3-year campaign made possible by a $1,000,000 grant from the 3M Foundation. The acclaimed WDS volunteer effort aims to "educate, encourage and empower" people of all ages about sun safety, in view of the fact that excessive cumulative sun exposure is the primary cause of skin cancer, now the fastest-growing form of cancer in America and the leading type of cancer for women, ages 25-29.

A dedicated corps of WDS volunteers from the Greater Denver area contributed a record total of 200 volunteer hours during three bustling days at the Festival, leading to the following record-breaking results:
Volunteers assessed 1380 individuals utilizing the Dermascan machine.
Dermatologists conducted 281 skin cancer screenings.
Volunteers distributed 22,000 free samples of sunscreen to the public.
112 area schools and organizations signed up for the WDS "Adopt-a-School" program featuring the Environmental Protection Agency's Sun-Wise Kit for educators.
130 school-aged children entered the campaign's national coloring contest by drawing original images of families playing safe in the sun.
Denver Mayor John Hickenlooper declared Saturday, July 1 as "Families Play Safe in the Sun" Day, in recognition of the national group's efforts to unite its Denver members to promote skin cancer prevention and proper sun protection in the higher-risk, Higher Altitude community.

"Families Play Safe in the Sun" is lead nationally by Suzanne M. Connolly, MD, Associate Professor of Dermatology, Mayo Clinic, Scottsdale. WDS members Kathleen Y. Sawada, MD and Adrienne Stewart, MD, both private practice Denver dermatologists, co-hosted this hugely successful volunteer event and conducted numerous skin cancer screenings. WDS President, Elizabeth McBurney, MD of Slidell, Louisiana joined in the busy outreach service along with several WDS dermatologist members from the Greater Denver area including: Sylvia Brice, MD, Anwell Chang, MD, Judy Chiang, MD, Whitney High, MD, Molly Hinshaw, MD, Karen Johnson, MD, Lisa Scatena, MD and Sarolta Szabo, MD.

Corporate representatives who donated their time to help with the outreach event included: Denise Beaudoin (Glaxo Smith-Kline), Stacey Black (Abbott Immunology); Megan Gilbert (Connetics);Crystal Schreck (Doak Dermatologics/Bradley Pharmaceuticals); and Carol Sloan (formerly of Dermik). Volunteer support was also provided by: Sandy Bowen; Hailee Boyle; Natalya A. Davies; Ciara Duran; Tracy Duran, MA; Miriam Gordon; Laura Hagert, MA; Cheniele Haynes; Amy Henderson, MA; Skylar Kerstiens; Sydney Kerstiens; Bethany Krumm; Maureen Krumm, PT; Marilyn Major; Lillian Ryer; Mariko Ryer; Seji Ryer; Barbara Stewart; Christina Virgin; and Christina Whitfield.

In addition to generous funding from the 3M Foundation, product donations for the Denver event were provided by Coolibar; Del-Ray Dermatologicals; Dermatologic Cosmetic Laboratories; Dermik; Galderma; Ortho Neutrogena; NuCelle; Phoenix Brands; Procter & Gamble; ProCyte; Rocky Mountain Sunscreen; Schering-Plough; Skyrad; Starberry, Ltd and Swiss-American Products. DermaScans were furnished by Schering-Plough.

For further information about Women's Dermatologic Society, visit:
www.womensderm.org
www.playsafeinthesun.org

Contact Kerry Parker, Executive Director, at 1-877-WDS-ROSE


The Women's Dermatologic Society supports the careers and professional development of women dermatologists. The mission of the Women's Dermatologic Society is to help women in dermatology achieve their greatest personal and professional potential by striving to: foster, promote, and support women's issues in dermatology; identify, train, and recognize women leaders in dermatology; and provide a forum for developing relationships.