"FAMILIES PLAY SAFE IN THE SUN" CAMPAIGN COMES TO THE WINDY CITY OF CHICAGO!

MAYOR'S CUP SOCCER TOURNAMENT
July 22 And 23, 2006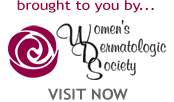 The Women's Dermatologic Society's (WDS) "Families Play Safe in the Sun" Campaign is coming to Chicago's Mayor's Cup Soccer Tournament at Lincoln Park for 2 full days of sun safety outreach to children and families.

Board-Certified dermatologists will conduct FREE SKIN CANCER SCREENINGS. Kids will enjoy a SUN SAFETY COLORING CONTESTS with prizes and fun giveaways. Educational materials and free sunscreen will be provided Come with your family to find out how to make sun safety a way of life and enjoy the exciting soccer competition!

Chicago marks the 7th stop of this 3-year, 15-city national educational outreach campaign made possible by a generous grant from the 3M Foundation.
WHAT: Women's Dermatologic Society brings you the "Families Play Safe in the Sun" Campaign.


WHEN: "July 22 - 23, 2006 | 8:00AM to 6:00PM


WHERE: The Mayor's Cup Soccer Festival | Lincoln Park in Montrose Harbor

MAP (Through Metromix Maps)
INFORMATION: Contact the Women's Dermatologic Society by
---> eMail: LNORTHROP@WOMENSDERM.ORG
---> Phone: 1-877-WDS-ROSE (937-7673)

For further information about Women's Dermatologic Society, visit:
www.womensderm.org
www.playsafeinthesun.org

Contact Kerry Parker, Executive Director, at 1-877-WDS-ROSE


The Women's Dermatologic Society supports the careers and professional development of women dermatologists. The mission of the Women's Dermatologic Society is to help women in dermatology achieve their greatest personal and professional potential by striving to: foster, promote, and support women's issues in dermatology; identify, train, and recognize women leaders in dermatology; and provide a forum for developing relationships.