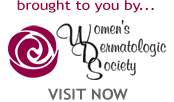 (September 14, 2006—St. Louis, MO)— Among crowds of 150,000 Missouri children and families, sun safety awareness soared at the recent St. Louis County Fair and Air Show, thanks to the volunteer efforts of local dermatologists representing the Women's Dermatologic Society (WDS) through its national campaign, "Families Play Safe in the Sun Day". This award-winning educational outreach utilized Greater St. Louis-area member volunteer dermatologists to provide free skin cancer screenings, dermatologic assessments, sun safety educational materials, sunscreen and children's activities. Geared for families with a message of prevention, the local campaign, held at the Chesterfield, MO Fairgrounds, successfully reached people of all ages who spend considerable time working and playing in the sun year-round.

St. Louis marked the eighth leg of a 15-city, three-year tour of the Women's Dermatologic Society's national sun safety educational campaign, which is made possible through a $1,000,000 grant from the 3M Foundation. This family and youth-oriented community outreach, which recently won the prestigious Gold Triangle award from the American Academy of Dermatology, promotes family sun safety as a way of life. The successful local event was co-hosted by St. Louis members Roberta Sengelmann, MD, Director of the Center for Dermatologic and Cosmetic Surgery and Assistant Professor at Washington University School of Medicine and Saadia Raza, MD, private practice dermatologist and Assistant Professor at the University of Missouri.

To raise awareness about the importance of practicing sun safety, St, Louis Mayor Francis G. Slay declared September 2, 2006 as "Families Play Safe in the Sun Day. " Highlights from the popular community outreach include:
Volunteers conducted 204 skin cancer screenings.
15,000 sunscreen samples distributed to families.
Volunteers provided 485 dermatologic assessments utilizing the Dermascan machine.
51 individuals signed up for the WDS "Adopt-a-School" program, providing the Environmental Protection Agency's Sun-Wise Kit to educators, which can be paired with a local WDS dermatologist who may volunteer in the schools and after-school programs.
150 Boy Scout and Girl Scout leaders received educational materials and sunscreen promoting sun safety for their troops.
The following WDS members and volunteers worked a combined total of 120 hours to organize and present this community outreach service: Danette Bentley, MD, Maria Canizares, MD, Mary Noel George, MD, Wei-Wei Huang, MD, Ann Martin, MD, Elizabeth McBurney, MD, WDS President from Slidell, LA; Joseph Muccini, MD, Kara Nunley, MD, Saadia Raza, MD, Vicky Saito, MD, Roberta Sengelmann, MD, Stacey Tull, MD, and Jaeyoung Yoon, MD. Volunteer support was also provided by Pat Cashal, LPN, Amalia Duvall, RN, Mary Ann Forgach, RN, Mozelle Fruge, and Jo Anne Lavisky, LPN. The following medical students volunteered at the event: Brundha Balaraman, Lauren Chang, Andrew Harger, Holly Lindsay, Vicky Wang and Yousef Zarbalian, all from Washington University School of Medicine, and Siobahn Bower, from Creighton University School of Medicine.

In addition to generous funding from the 3M Foundation, product donations were provided by Coolibar; Del-Ray Dermatologicals; Dermatologic Cosmetic Laboratories; Ortho Neutrogena; Procter & Gamble; Schering-Plough; Skyrad; and Starberry, Ltd. DermaScans were furnished by Schering-Plough.
The WDS campaign draws from its 1,200 members nationally to provide volunteer support in local communities to reach out to diverse populations to heighten sun safety awareness and healthy practices among families. Families Play Safe in the Sun will next visit Austin, TX September 30—October 1 at the Old Pecan Street Fall Arts Festival and will announce its 2007 USA Tour schedule soon. For further information, please visit: www.playsafeinthesun.org or www.womensderm.org.