CLEVELAND DERMATOLOGISTS HELP FAMILIES PLAY SAFE IN THE SUN WITH HIGH-IMPACT OUTREACH

Local Women's Dermatologic Society volunteers led by Cleveland Clinic dermatologists give their all at Ingenuity Festival promoting family sun safety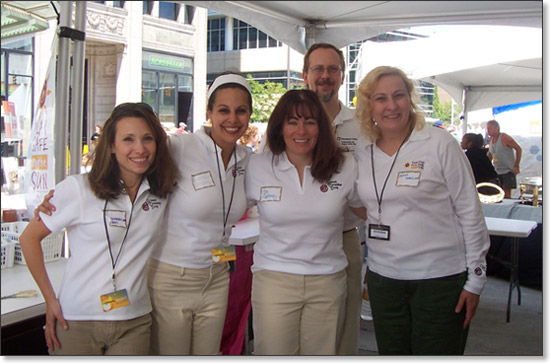 WDS volunteers led by Cleveland Clinic dermatologists gave their all at the Ingenuity Festival promoting family sun safety in July, 2007. Many thousands of Cleveland men, women and children of all ages and skin types benefited from the outreach at the Festival. The notably successful local team was hosted by Wilma Bergfeld, MD; Christine Lopez, MD; and Allison Moosally, MD.
Photo:.Ann Kooken, MD , Allison Moosally, MD, Trefina Galloway, MD, Berna Remzi, MD, and in back, Jon Meine, MD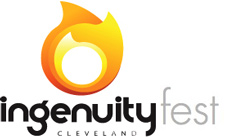 (July 30, 2007—Cleveland, OH) — Many thousands of Cleveland men, women and children of all ages and skin types benefited from a recent Families Play Safe in the Sun outreach at the Ingenuity Festival, presented by the Women's Dermatologic Society (WDS) and energetically led by a team of Cleveland Clinic dermatologists.

The notably successful local event, the 12th stop of a 15-city national campaign, was co-hosted by Cleveland Clinic dermatologists and WDS members Wilma F. Bergfeld, MD, FAAD, Head, Clinical Research, Department of Dermatology and Head, Dermatopathology, Department of Dermatology and Pathology, who was Founding President of the WDS; Christine P. Lopez, MD, Associate Staff and Associate Program Director, Dept. of Dermatology, and Allison Moosally, MD, Mohs and Dermatologic Surgery Fellow and recent staff member, Beachwood Family Health Center. This acclaimed family sun safety campaign, made possible by a generous grant from the 3M Foundation, made its mark in Cleveland as shown in the following results:
305 individuals received free skin cancer screenings by Board-certified Ohio dermatologists, resulting in a 33% referral rate for further diagnosis/biopsy.
510 people underwent sun damage assessments conducted by volunteer dermatologists utilizing the Dermascan machine.
28,000 samples of broad-spectrum sunscreen samples were distributed to Festival visitors.
15 parents and teachers signed up for the Adopt-a-School program, providing the Environmental Protection Agency's Sun Wise Kit to their designated schools.
24 dermatologist volunteers interacted with thousands of Festival visitors during two and a half days of the outreach, offering a cumulative total exceeding 160 hours of community service.
Cleveland Mayor Frank G. Jackson declared Saturday, July 21 as "Families Play Safe in the Sun" Day in recognition of the local volunteer outreach benefiting Cleveland families.
The following Cleveland Board-certified dermatologists and WDS members contributed their time and efforts to the local Families Play Safe in the Sun campaign: Wilma Bergfeld, MD, Beverly Cameron, MD, Trefina Galloway, MD, Ann Kooken, MD, Christine Lopez, MD, Jon Meine, MD, Allison Moosally, MD, Pamela Ng, MD, Melissa Piliang, MD, Najwa Somani, MD, Jim Taylor, MD, Becky Tung, MD, and Justin Woodhouse, MD. Resident volunteer support was provided by: Antoine Amado de Olazaval, MD, Natasha Atanaskova, MD, Laura Burdick, MD, Luciana Molina de Medeiros, MD, Berna Remzi, MD, Mandi Sachdeva, MD, Ali Somani, MD, Michele Tarbox, MD and James Tarbox, MD, along with Fran Moore, PA-C.

The mission of "Families Play Safe in the Sun" is to "encourage, educate and empower family members to make sun safety a way of life", according to Suzanne Connolly, MD, Associate Professor of Dermatology at the Mayo Clinic (Arizona), who leads this family-oriented educational outreach service on a national level. To date, the WDS community service campaign has directly reached approximately 1,050,000 families at large-scale outdoor community events across the nation. In 2006, the WDS campaign earned the prestigious "Gold Triangle" award from the American Academy of Dermatology (AAD).

In addition to generous funding from the 3M Foundation, product donations were furnished by Banana Boat, Cabana Life, Cleveland Clinic, Coolibar, Del-Ray Dermatologicals, Johnson& Johnson, Ortho Neutrogena, Procter & Gamble, Skyrad and Starberry, Ltd.

The next stop of the Families Play Safe in the Sun campaign will take place at the Plano Balloon Festival, September 21-23, 2007 in Plano, Texas.

For more information, visit www.womensderm.org or call 1-877-WDS-ROSE (937-7673). A 60-second public service announcement promoting sun safety is available for viewing by visiting the website, www.playsafeinthesun.org

For further information about Women's Dermatologic Society, visit:
www.womensderm.org
www.playsafeinthesun.org

Contact Kerry Parker, Executive Director, at 1-877-WDS-ROSE


The Women's Dermatologic Society supports the careers and professional development of women dermatologists. The mission of the Women's Dermatologic Society is to help women in dermatology achieve their greatest personal and professional potential by striving to: foster, promote, and support women's issues in dermatology; identify, train, and recognize women leaders in dermatology; and provide a forum for developing relationships.