WOMEN'S DERMATOLOGIC SOCIETY VOLUNTEERS TO PRESENT ARIZONA FAMILIES WITH SUN SAFETY OUTREACH AT HEALTH & FITNESS EXPO

Thousands of kids and families will benefit from the Women's Dermatologic Society's award-winning "Families Play Safe in the Sun" outreach.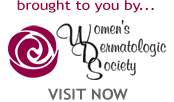 The Women's Dermatologic Society (WDS) invites you to join the Phoenix "Families Play Safe in the Sun" volunteer team for a fun and rewarding community service outreach on January 11 and 12, 2008!

We hope you can participate in the upcoming WDS "Families Play Safe in the Sun" outreach at the Health and Fitness Expo in conjunction with P.F. Chang's Rock and Roll Marathon in Phoenix, AZ.

Local volunteers representing the WDS will offer two days of sun safety education and outreach hosted by WDS member, Jennifer Linder, MD. Volunteers will offer:
Free skin cancer screenings
DermaScan Assessments
Educational materials
Free sunscreen to the 100,000 Expo visitors
The WDS booth also includes a special kids area with a sun safety coloring contest, quizzes and fun giveaways.

Dermatologists, residents, medical students, PA's all are welcome to volunteer!

This is a wonderful opportunity to provide an invaluable service to the community and reach out to kids and families from all over Arizona to promote sun safety.

We encourage you to bring your families and friends and enjoy the Expo before or after your shift (expo continues till 7pm on Friday and 5pm on Saturday.) For full details on all attractions, visit:
If you would like to sign up for one or more of the volunteer shifts, please use our online form here, email Lindsay at ljohnson@womensderm.org, or call 1-877-WDS-ROSE. If you would like to join WDS, please visit the WDS membership department here. It is quick, easy and free for residents.

The WDS campaign draws from its 1,300 members nationally to provide volunteer support in local communities to reach out to families to increase sun safety awareness and healthy skin practices among people of all ages, in all seasons.

Please call or email ljohnson@womensderm.org if you have any questions or would like to volunteer and we hope to see you at the Expo!
Post-Event Details (Also Available In PDF)


WHAT: Volunteers needed for the "Families Play Safe in the Sun" Campaign


WHERE: P.F. Chang's® Rock 'n' Roll Arizona Health & Fitness Expo at Phoenix Convention Center (Google Map - Click HERE)


WHY: Outreach to Arizona's kids and families on sun safety education and skin cancer prevention


WHEN: January 11-12, 2008

Volunteer Shifts:
Friday, Jan 11
Shift A:
10:00am to 1:00pm
Shift B:
1:00pm to 4:00pm
Shift C:
4:00pm to 7:00pm
Saturday, Jan 12
Shift A:
9:00am to 1:00pm
Shift B:
1:00pm to 5:00pm


(Volunteer HERE)

INFORMATION: Contact the Women's Dermatologic Society by
---> eMail: ljohnson@womensderm.org
---> Phone: 1-877-WDS-ROSE (937-7673)

ADDITIONAL RESOURCES:

For further information about Women's Dermatologic Society, visit:
www.womensderm.org
www.playsafeinthesun.org

Contact Kerry Parker, Executive Director, at 1-877-WDS-ROSE


The Women's Dermatologic Society supports the careers and professional development of women dermatologists. The mission of the Women's Dermatologic Society is to help women in dermatology achieve their greatest personal and professional potential by striving to: foster, promote, and support women's issues in dermatology; identify, train, and recognize women leaders in dermatology; and provide a forum for developing relationships.