WOMEN'S DERMATOLOGIC SOCIETY MEMBERS SPREAD SUN SAFETY EDUCATION IN TWIN CITIES TO THOUSANDS OF FAMILIES AND STUDENTS

Community service campaign makes successful second stop of 15-city, 3-year national tour in Minnesota; Minneapolis Mayor proclaims "Families Play Safe in the Sun" Day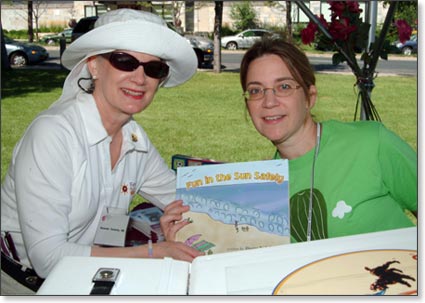 Enjoying a sun safety book at the Walker Art Center outreach event are: Dr Suzanne Connolly, who leads the national Women's Dermatologic Society service campaign, and a young event participant, Sarah Schultz.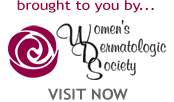 Minneapolis—(August 15, 2005)— Fueled by one million dollars from the 3M Foundation, and a shared vision to reduce skin cancer in America by promoting sun safety, a dedicated volunteer team from the Women's Dermatologic Society (WDS) brought the national educational campaign, "Families Play Safe in the Sun" to thousands of Minnesota families during two days of community service and media appearances in the Twin Cities.

With the mission to "educate, encourage and empower" young families and children about sun protection and good skin health, several WDS members and campaign volunteers provided free resource materials, sunscreen, Dermascan assessments, UV reflectance photographs and an array of children's sun safety activities at the Walker Art Center's Free First Saturday and in conjunction with the 3M-sponsored skin cancer screenings held at the Senior PGA 3M Championship in Blaine, MN. Between these two community outreach events, the following results were achieved:
Approximately 300 Dermascan assessments were conducted by Board-certified WDS member dermatologists;
43 Minnesota schools or youth groups representatives signed up for the Environmental Protection Agency's award winning educational program, SunWise;
5,000 sunscreen samples were distributed;
1,200 Sun safety awareness and protection products were provided;
More than 100 hours of community service were donated by the volunteers;
85 school children entered the national "Families Play Safe in the Sun" coloring contest;
Community, civic and local/national dermatologic leaders gathered to develop ideas and plans for future sun safety educational efforts in Twin Cities;
Statewide and local TV/radio interviews in Minnesota with WDS members provided thousands of media impressions.
In recognition of the local community service efforts to boost sun safety awareness and education, Minneapolis Mayor R. T. Rybak declared a citywide "Families Play Safe in the Sun" Day on Saturday, August 6, 2005.

The Families Play Safe in the Sun volunteer team for the Minnesota outreach included: Suzanne Connolly, MD, Associate Professor of Dermatology at the Mayo Clinic in Scottsdale, who leads the WDS national community service campaign; event co-hosts Maria Hordinsky, MD, Professor and Chair, Department of Dermatology, University of Minnesota and Kathleen Hectorne, MD Clinical Instructor in Dermatology at Mayo Clinic Rochester and Mayo Health System's Austin Medical Center, other Minnesota WDS members who volunteered included Allison Cashman, MD, Julie Seim Cronk, MD, Lynn Glesne, MD, Catherine Hoffman, MD, Cynthia Olson, MD, Judy Shank, MD, Rochelle Torgerson, MD, and Erin Warshaw, MD. On-site support also provided by: Bertha Lin, MD, Cindy Smith, MD, Sheetal Mehta, MD, Allison Hoffman, MD, Peter Cham, MD, Cathy Boeck, RN, President of the Dermatology Nurses Association, Cynthia Hanson, RN and Donna Balitz, Cindy Kleven and Jim Reith from the 3M Corporation.

In addition to the generous funding from the 3M Foundation for the 3-year Families Play Safe in the Sun campaign, product donations for the Greater Minneapolis events were provided by: Del-Ray Dermatologicals; LaRoche-Posay; Ortho Neutrogena; Phoenix Brands; Procter & Gamble; Schering-Plough; Skyrad; and Starberry, Ltd. Dermascans were furnished by Schering-Plough and the UV reflectance camera was provided by 3M Corporation.

The WDS campaign draws the organization's 1,300 dermatologist members nationally to provide volunteer support in local communities to increase sun safety awareness and promote healthy skin practices among family members of all ages and skin types.

For more information, please visit www.womensderm.org or call 1-877-WDS-ROSE (937-7673).

For further information about Women's Dermatologic Society, visit:
www.womensderm.org
www.playsafeinthesun.org

Contact (General Inquiries): WDS Offices at 1-877-WDS-ROSE
(937-7673)

Contact (Media Inquiries): Nancy FitzGerald, Director of Communications at (760) 333-9296

The Women's Dermatologic Society supports the careers and professional development of women dermatologists. The mission of the Women's Dermatologic Society is to help women in dermatology achieve their greatest personal and professional potential by striving to: foster, promote, and support women's issues in dermatology; identify, train, and recognize women leaders in dermatology; and provide a forum for developing relationships.